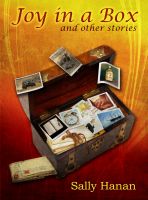 Joy in a Box
A blind girl has a gift; a father's heart breaks; a young boy in Africa might die; the step-children want her dead husband's money . . . read these short snippets of fiction and be prepared to gasp, giggle, and groan. Sally Hanan's insight into the human heart brings a depth of richness to her stories, many of them written in a poetic style of prose that flows and gurgles like a country creek.
Reviews
"Her poignant crystal clarity of truth and honest point of view of meaning and simplicity gathers together in the smallest set of words for each short story. . . . these . . . stories reminded me of—just one word—HAIKU. . . .
. . . the "antagonist"—generally a normal aspect of any written story—isn't entirely concrete, malleable, even visible. We're not talking about a villain dressed in black here or a mean old lady out to skin 101 dalmations for their fur to make coats. The conflict is something inside…rather than outside. The plot is more based on "thought" than on "action". The story moves more on the concept of "memories" than on "events". Sort of like . . . Haiku." ~ Pierre Dominique Roustan, author of The Cain Letters (read more, part 1) (read more, part 2)
"It takes a special talent to write a complete story in a few words. Sally Hanan has that talent, and most of her stories have an interesting twist ending." ~ Lena Nelson Dooley, award-winning author of Wild West Christmas, Christmas Love at Lake Tahoe, and Love Finds You in Golden, New Mexico
"Each story was so different and inspiring and well-written.This book is more than JOY; it stands for HOPE! "~ Fran Lewis, author of My Name is Bertha, Bertha Speaks Out, Bertha Fights Back
"I liked the old 50's feel that it has, kind of like reading James Joyce or Steinbeck. Very nice job. " ~Rie McGaha…fantasy that keeps you up
"This is a memorable book with stories for everyone. It's easy and quick to read each story, and they leave you thinking and curious. They also have a background in the real world (which is included in footnotes) so people can go and explore." ~J.E., Creator of http://www.bunnyrabbitsex.com/, a site for writers
Joy in a Box can be purchased as a download in these formats:
Online Reading (HTML)
Online Reading (JavaScript)
Kindle (.mobi)
Epub (open industry format, good for Stanza reader, others)
PDF (good for highly formatted books, or for home printing)
RTF (readable on most word processors)
LRF (for Sony Reader)
Palm Doc (PDB) (for Palm reading devices)
Plain Text (download) (flexible, but lacks much formatting)
Plain Text(view) (viewable as web page)
Joy in a Box is still in production. While the e-book is ready to sell, the print version is just waiting on final approval. If you are a book reviewer, I would love to talk with you.